Among the hundreds of thousands of web hosting providers available on the market, Hostinger is one of the most affordable ones. Since 2007, Hostinger has been providing its service at a comparatively cheap price. And due to its low cost it now has around 30 million users worldwide. In less than 15 years, Hostinger became one of the fastest-growing web hosting companies.
One of the main reasons for Hostinger's popularity is the loads of features it provides to its users. Though the conveniences that Hostinger provides are also available in other web hosting services, they are not as reasonably priced.
Lots of space, unlimited web hosting, high-quality cloud features, and affordable domain charge makes Hostinger a marvelous investment point for those aspiring to create a website with WordPress.
If you are thinking of considering Hostinger as your next WordPress-based web hosting service, this article is for you. This Hostinger web hosting review will give you an in-depth view of this company.
After reading this article you will have a better understanding of this web hosting company and it will certainly help you to decide whether or not you should purchase its service. It will also help you to determine the perfect deal for you. So let's dive deeper into the world of this web hosting company.
Basic Overview of Hostinger
First, take a look at the basic features of Hostinger
OpenResty nginx+lua
Daily Backups
CloudLinux
Access Manager
100 GB bandwidth
Custom hPanel
LetsEncrypt integrate
Cloudflarelare integration
Streamlined and automated server deployments
SSD Drives for extreme speeds
LVE containers for Account Isolation
Intercom
One email account
Wanguard Real-time anti-DDoS protection on Switches
HTTP/2
10 GB storage
Pro-active and predictive server monitoring
Realtime reactive server monitoring
Nginx Micro Cache
Memcached
Intelligent WAF on each server
30-day money-back guarantee
Hostinger very effectively provides these above-mentioned features. If you have any previous ideas about web hosting you probably have already realized just how amazing your website will get with Hostinger.
But before you decide to purchase this company's service, you should know a bit more about it. There is no need to go anywhere else, you will get all you need just here.
How Much Does Hostinger Cost?
With big investments come better service. But this is not necessarily the case for Hostinger. Here you can get all you can need at a comparatively cheaper price. Here is the web hosting plans that Hostinger provides to its users.
This table is here to help you choose the perfect plan suiting your need.
If you are interested to know more about what they provide within your budget you can click here and check it all out by yourself. But before choosing any plans you should be aware of both sides of Hostinger. Here you will get to know what you are getting from Hostinger and what you are missing out on.
Read also –
Benefits of Using Hostinger (Pros)
As of 2021 Hostinger has around 30 million satisfied users. The benefit of this web hosting provider is attracting more and more users each year. And only using it can make you realize just how good Hostinger is when it comes to web hosting.
However, you don't need to use their service to know about what they have for you. Just keep reading and you will see it all here.
Here are the points Hostinger excels in.
1. Super-fast Load Time
A website's impression of a site vastly depends on its load time. We all have used websites that take ages to load. And it's frustrating if a site takes 5 minutes to load a single page.
A survey made by Cloudflare shows that at least 30% of people leave a site if it takes more than 3 seconds to load. And this is how websites with slow load times lose a lot of engagement in their website, eventually leading their website to fail miserably.
However, Hostinger, with up to 1000 Mbps connection assures a stable and super fast loading time. Impressively Hostinger delivered an average page loading time of 0.345 seconds over the past 12 months of last year.
They are undoubtedly one of the fastest compared to most top-ranked web hosting companies.
2. 30-Day Money-Back Guarantee
Hostinger has a wide range of payment options. You can pay via PayPal, Visa, Bitcoin, Mastercard, Maestro, American Express, Discover, and JCB.
This makes Hostinger a convenient service as the payment can be easily made. The more exciting news is, that Hostinger offers a "30-day money-back guarantee".
It means after registration you can try their service for a month and if you don't like their performance you can always get your money back. It's like experiencing one month of a free trial.
However, not all products and services of Hostinger are refundable. There are certain terms and conditions regarding reimbursement. For example, products such as privacy protection and SEO toolkit are not refundable. To know more about their refund policy, you can click here.
3. Multilingual Customer Support
Hostinger provides its service in 178 countries of the world. This certainly creates the problem of the language barrier. However, Hostinger has effectively dealt with this problem. They have stunning customer support which is not only responsive but multilingual as well. This makes it easier for every user to get effective solutions to their problems.
A bad customer support service can result in tremendous loss. If your site is not properly working for some reason and you can't get in touch with customer support as soon as possible, it can cause tons of losses. Cheap web hosting companies can make you suffer from this type of inconvenience. But with Hostinger you won't have to worry about it at all.
After you log in to your Hostinger account you can easily access the live chat with an icon situated in the bottom right corner of the page. You can talk about any problem you are having with your website and they will fix it for you within half an hour.
And the best part is you can chat with them in your language which makes it easier for you to describe your problem.
4. Free Domain Name and Website Builder
In Hostinger you will get a free website builder no matter what plan you purchase. There are a lot of different templates to choose from as well.
And after choosing the template you can customize your page with the Hostinger website builder. You have the freedom to design, arrange, and name everything.
In addition to this super convenient website builder, you will be getting one domain for Single Web Hosting. And if you want more domains, each will cost you only $0.99 per month.
In the case of Premium Web Hosting and Business Web Hosting you will be getting unlimited domain names. It's the cheapest service you can get.
5. Practical Interface
In Hostinger you will get a modern yet easy-to-use interface where you will find all the essential things in one location. This will allow you to update billing information, track logins, manage your domains, and monitor emails all from the dashboard.
The interface is beginner-friendly. In place of the traditional cPanel, there are large icons to make the process of designing and arranging your site easier. Though professionals may miss the cPanel it won't take much time for them to get used to it.
6. Unlimited Features
The premium and business plan of Hostinger comes with a lot of unlimited features to make your site more appealing and engaging.
There are unlimited storage, unlimited bandwidth, unlimited domains, and as many IP addresses as you might need. There are a lot of different effective features such as auto-responder.
Though the simple hosting plan has limited features, it's effective as well for beginners and small businesses.
7. Affordable
The best thing about Hostinger is its price. There are many web hosting companies that provide excellent service but cost a lot. And then there are companies with low costs. But their service and quality are anything but satisfying.
However, Hostinger has a good quality of both. With a little cost, you will be getting the best possible experience.
Here the longer you decide to stick to Hostinger, the less you will have to pay. This is a good deal if you have long-term plans with your website.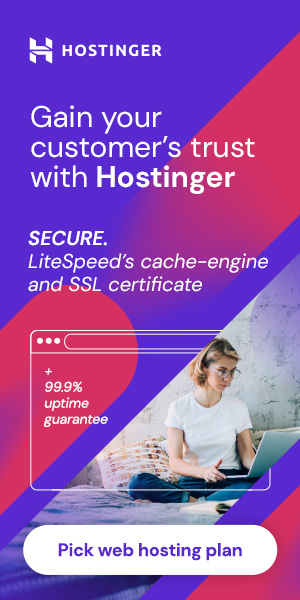 ---
Disadvantages of Using Hostinger (Cons)
There are lots of reasons to love Hostinger. Fast loading speed, helpful features, and great customer support made Hostinger the perfect web host provider. Well, almost perfect.
To be honest, there isn't an ideal, flawless web host out there and Hostinger is no exception. There are some disadvantages and faults with Hostinger but you can live with that only if you are aware of the problems. Knowing the not-so-perfect sides of Hostinger can help you to use it perfectly.
You may also want to read,
Here are some of the major disadvantages of Hostinger.
1. Inconsistent Uptime
If you have experience working with websites then you probably already know what uptime is and its significance.
Uptime is the duration a website or web service is available to the users. The expected uptime is 100%, even though 99.99% uptime is enough. Anything less than this can lead to the downfall of a website.
However, despite being a top-notch web hosting service provider, Hostinger disappointingly had an average of 99.74% uptime in 2020. There were almost 23 hours of downtime in the last year. This causes lots of its websites to suffer huge losses.
Hostinger's performance had been good for the first 9 months of 2020 with an average of 99.99% to 99.95% of uptime. In the last 3 months, the uptime decreased to 99.32% and this affected the overall average.
This inconsistent uptime is not intended in any way and Hostinger is working on it to make sure it doesn't happen again.
2. Absence of cPanel
While most web hosting service has the traditional cPanel, Hostinger uses its control panel. This control panel is comparatively easier to use and beginners will certainly find its feature helpful.
But the professionals and advanced users don't quite like the design of this dashboard. As they are already accustomed to the usual cPanel, the dashboard of Hostinger might seem a bit odd to them.
They may even have a bit of difficulty using it at first. But allowing this design a bit of time will certainly make any user comfortable to complete any task with it.
3. Disappointing Refund Policy
Though Hostinger offers a 30-day money-back policy it's not as effective as you might think. A deep analysis of their refund policy reveals a few disappointing exceptions.
For starters, Hostinger doesn't provide a refund for all services. There are certain fees such as domain name renewal fees, redemption fees, and privacy fees that are not refundable.
In addition to this, Hostinger breaks its promise of a 30-day money-back guarantee when it comes to new domain name registration. You will only get a full refund if you cancel the domain within 96 hours of purchase. You should keep this exception in mind before buying any plans.
Conclusion
Despite having a bit of inconsistent uptime and a messed-up refund policy, Hostinger is still one of the best choices when it comes to choosing a web hosting company. Its impressive speed and loads of features make it the best-performing web host.
But, before considering this host you should bear in mind the issues discussed in this article and wisely choose the perfect plan for your website. Working with Hostinger will not disappoint you.
Editor's Picks –
This page contains affiliate links. Meaning, I get a commission if you purchase through my links, at no cost to you. Read the full
disclosure
here.